Octant - a real-life environment for experiments in decentralized governance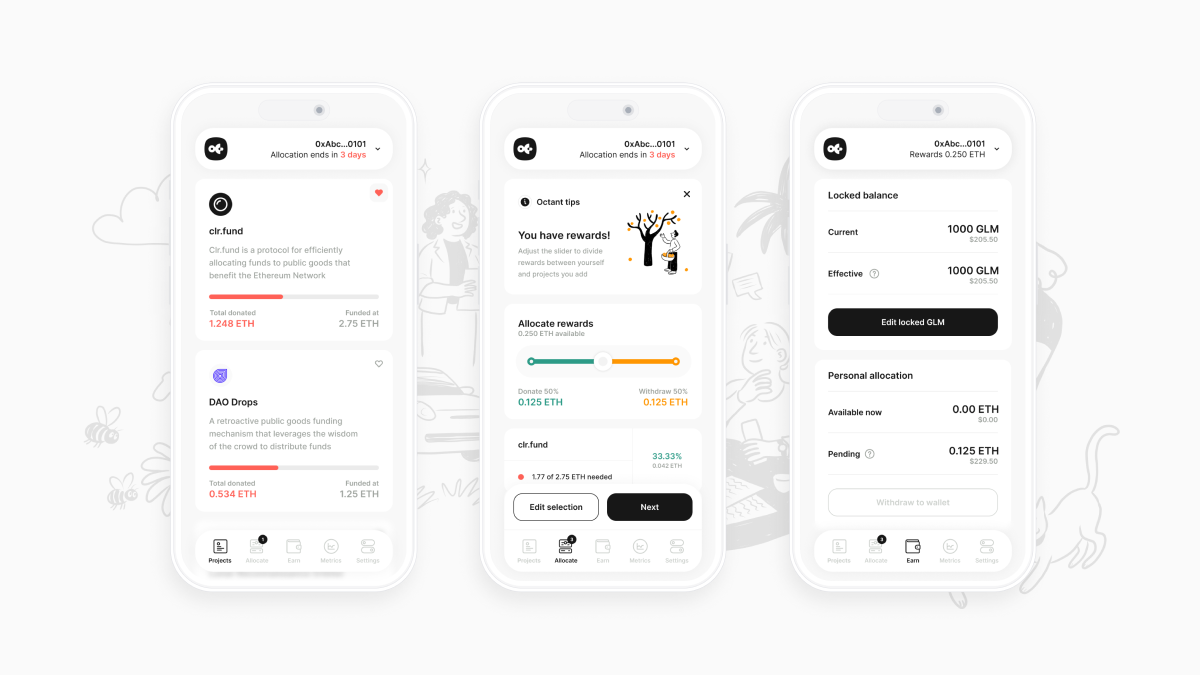 If you've been following us for a while, you'll know that we're passionate about finding new ways of improving governance. Some time ago we outlined the idea for the User-Defined Organization (or UDO for short): a decentralized governance framework which aims to tie a platform's governance to its usage.
Novel ideas, like the UDO, require a real-life environment to be tried and tested. Today we're really stoked to announce that Golem Foundation is releasing Octant: a platform for experiments in decentralized governance, built around the Golem Network's native ERC-20 token, GLM.
With Octant, the goal is to engage the existing GLM community, as well as anyone interested in joining, in a series of experiments aimed at increasing participation in governance, finding sustainable funding models for public goods, and improving polling methods to better reflect the values and goals of diverse communities.
Evidence gathered in the MVP will be vital to shaping the ultimate framework of Wildland governance, especially the Build Fund and related concepts.
What is Octant?
Octant is a platform designed to test various hypotheses around user control, community engagement, and participatory public goods funding.
To finance the platform, Golem Foundation stakes 100,000 ETH from its own treasury and allocates a predefined amount of its staking rewards to the Octant reward pool, creating a budget for experimentation. (Please note that not all our validators are online yet. We tested our solo-staking setup with a limited set of 64 validators and we are currently in the validator queue with over 3000 more of them. The expected deployment date is between September 1-4 2023. Octant's FAQ provides you with instructions on how you can keep track of the status of our validators in real-time.)
How does Octant work?
Octant's reward pool, fueled by returns from staking, will consist of two parts: User Rewards and Matched Rewards.
How to participate
To participate in the distribution of Octant funds, users must lock at least 100 GLM with Octant for a 90-day epoch. The more GLM someone locks in, the more rewards they will earn, and the greater voting power they gain in token-weighted polls. Essentially, the rewards a user receives are directly proportional to the amount of GLM they lock. For example, locking in 1% of the total GLM supply means you receive 1% of the staking reward.
Please remember to only lock your funds using the official Octant web App, and make sure that you are sending funds to the following address: 0x879133Fd79b7F48CE1c368b0fCA9ea168eaF117c. Do not lock your GLM with any other address or any ENS! We will not be able to assist you with unlocking your tokens if you send your funds to the wrong address!
During an epoch
Octant's GLM time-locking mechanism is non-custodial. The tokens locked into Octant by users are not pooled together with other users' funds, and each user can unlock their tokens at any time. However, full participation in governance requires keeping your GLM locked for the entire epoch.
The end of an epoch
Once the epoch ends, users with valid lock-ins can either claim their User Rewards for themselves or donate their share of Octant rewards, partially or entirely, to eligible public goods projects. If they choose to donate part of their rewards, their contributions will be amplified from the Matched Rewards pool.
Listing potential beneficiaries
The Epoch One list of potential beneficiaries will initially include all the projects that received funding during Octant's pre-launch Epoch Zero event. Before the first allocation window starts, we will add additional projects to the pool, taking into consideration the input of the Octant community.
We will describe the details of the submission and review process in a future post. In the meantime, if you are interested in this subject, please check the "Propose a project" section in the Octant docs, where we outline the eligibility criteria and the selection process.
What's unique about Octant?
While on the surface Octant's design might look simple and straightforward, we've introduced some important twists to its mechanics that make it much more engaging:
To be able to claim a part of the rewards from staking, Octant users will not only need to lock GLM with us but also be active during the allocation windows. They can either claim rewards for themselves, or donate them to eligible public goods causes; otherwise, their share of the rewards will go back to Octant and be used for restaking.

Similarly, for projects to be eligible for receiving community donations, they must pass a predefined threshold of community contributions. Rewards allocated to projects that don't meet the funding threshold will return to Octant and be used for restaking.
These design choices turn Octant into a multiplayer game. Users will need to observe what other "players" are doing, keep an eye on how their favorite projects are faring, and react accordingly.
No allocation decision will be final until the Allocation window closes. Users can change their allocations as many times as they wish while the decision window is open and move their donations from project to project based on the popularity of their preferred choices with the rest of the community. (To enable this, all allocation decisions will happen off-chain, with no gas fees involved).
To attract donations, public goods projects included in the funding round will need to engage with the Octant community, promote their projects and missions, and actively contribute to the vibrant discussions.
This dynamic approach adds an interactive element to Octant, encouraging users to actively participate in the allocation process and creates an ecosystem of continuous engagement.
And, as a special bonus…
A special Epoch One Octant feature awaits all 656 people who voted in the Epoch Zero Snapshot poll. We appreciate your active engagement in our web3 public goods funding efforts, and we warmly welcome you to the Octant community with a special bonus. Connect the Octant app to the wallet address you used for voting in the Epoch Zero Snapshot poll, and claim 1000 GLM from the Golem Foundation! This feature will only be available until the end of Epoch One, so ensure you claim your GLM before the deadline.
We hope you will choose to lock these funds into Octant and, at the end of the epoch, consider donating at least part of the rewards to your favorite public goods projects. While Epoch Zero was a one-time-only event, Octant continues as an experiment in sustainable public goods funding, and your ongoing support plays a vital role in shaping its future and supporting the causes that matter to you the most.
Go deeper and stay up to date with Octant!
This announcement post only scratches the surface of what Octant is and what it can become in the future. For those of you who would like to delve deeper into Octant's design, its relationship with Golem, our staking setup, etc., we've created a handy FAQ that covers most of the basics.
We also offer comprehensive documentation where you'll find articles on Octant's rationale, mechanism design, the math behind calculating User Rewards and Matched Rewards, and many other foundational issues.
If you still have more questions or would like to connect with the Octant team, please join our Discord server. Also, consider following us on Twitter and signing up for our Substack newsletter to get the latest updates on the project.
Lastly, please remain vigilant. Unfortunately, significant project launches in the crypto space often attract scammers and fraudulent individuals. Always use the official Octant app and trust only the information released on the Octant official channels. Octant will not contact users through Direct Messages with any special offers, there won't be a "GLM-launch sale", and there won't be any release of an Octant "governance token". If you are unsure whether the message you see regarding Octant is true, please always verify it with someone from the Octant Team on the official Discord server.