RadicalxChange Warsaw: As It Happened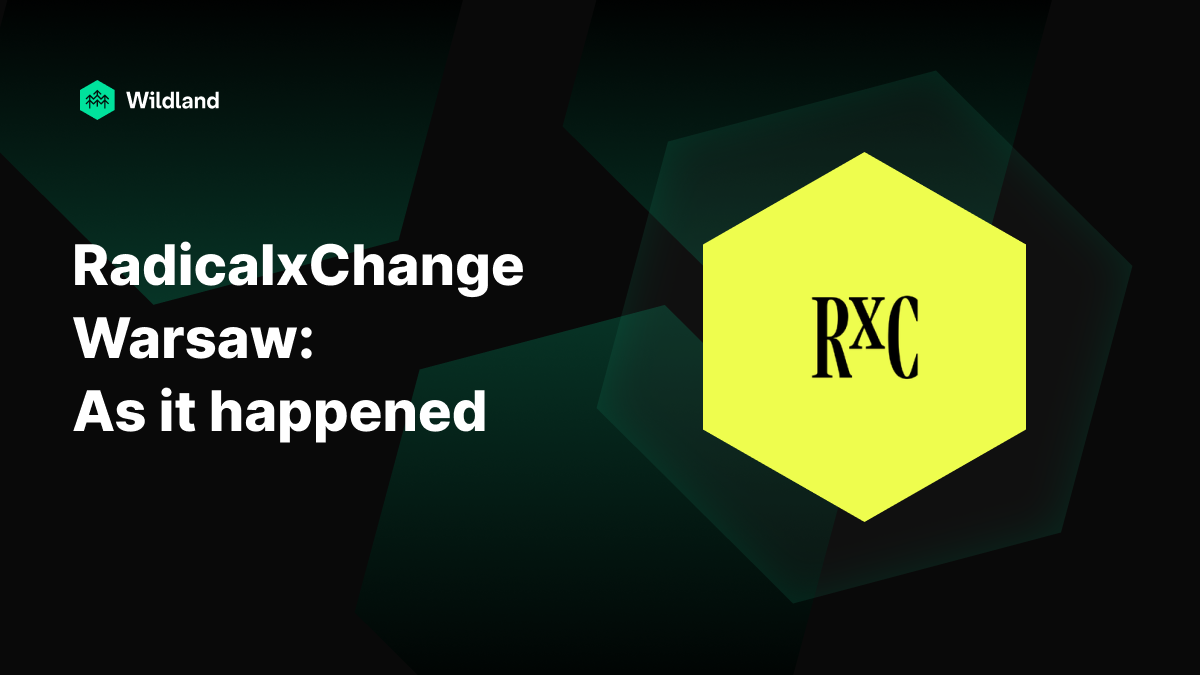 This October, RadicalxChange introduced its ideas for fruitful cooperation and building a modern democracy to a CEE audience for the first time.
The RadicalxChange Foundation (RxC) is a US-based 501(c)3 nonprofit organization. It was founded as a global movement for next-generation political economies by economist E. Glen Weyl in 2018. They work to build a diverse community of academics, artists, activists, technologists, and more, to educate and explore democratic innovation.
photo by: Zbyszek Kaczmarek
On the 18th of October, RxC and Wildland co-hosted people from all over Europe and beyond together in Warsaw, Poland for a day of examining European institutions through the frame of pluralistic governance, experiencing art as windows to connection, and discussing web3 as a means of social change.
Julian Zawistowski, photo by: Zbyszek Kaczmarek
The day consisted of several sessions. The event kicked off with introductions from Matt Prewitt from the RadicalxChange Foundation and Julian Zawistowski of Golem Foundation/Wildland, introduced by Paula Berman from the RadicalxChange Foundation who kept the whole event rolling as the MC.
In his opening remarks, Julian, one of the co-founders of Wildland, explained that he wanted to introduce RadicalxChange's ideas to a European audience because recent events and changes in our world indicate that it is necessary to "create social change through better cooperation between humans."
Matt Prewitt, photo by: Zbyszek Kaczmarek
Matt introduced the concept of increasing returns and what the RadicalxChange Foundation focuses on, starting with some questions: "Why is democracy so difficult and why does its future depend on plurality?" "What insights did George Orwell or American economist Henry George give us?" Matt then gave an outline of RadicalxChange's ideas such as quadratic funding, that aim to overcome some of democracy's vices.
Matt Prewitt, Stav Shaffir, Juha Leppänen & Kazimierz Popławski, photo by: Zbyszek Kaczmarek
The first panel of the day - Imagining How Democracy Could Work - brought together Juha Leppänen (Demos Helsinki), Matt Prewitt (RadicalxChange), Stav Shaffir (Shira Center), and Kazimierz Popławski (Przegląd Bałtycki)). They discussed how democracy-to-come could work, what it might look and feel like, and how this imagination informs the steps we can take today. Stav, the youngest elected member to the Knesset, explained the importance of cities in making changes to the system: Cities have the highest potential of having people involved in their day-to-day lives. "So [when it comes to] education, planning roads, urban planning, it should be dominated and led by the people who actually live in the city and not by outsiders (…) If we encourage people and get them to take action in their day-to-day lives about how things are done and show them the fruits - I think it will encourage them to act also on the national level and use democracy in ways that we still haven't seen."
Juha Leppänen talked about some flaws that need to be addressed: "For me, democracy is one very particular way of orchestrating collective action, and one aspect of that collective action is problem-solving (…) If you look at our democracies, many of the issues that we're dealing with today escape their boundaries in some way. And what that means is a decline in agency that then leads into a decline in accountability." Democracies thrive when there's a process of imagination, debate, and experimentation, not just in society but in the democracy itself.
Kazimierz offered a real-life example of democracy being reenvisioned with tech as a tool: Estonian e-democracy and how it may not be as straightforward in its effects as we may think: "In [Estonia's] case, technology is a facilitator that helps those who already have agency and those who want to participate in elections, but does not necessarily influence democracy as a whole."
Sille Sepp, Joanna Rutkowska, Alek Tarkowski & Katarzyna Szymielewicz, photo by: Zbyszek Kaczmarek
The second panel, titled User Agency and Democratic Data Governance, gave the audience three fascinating perspectives from Joanna Rutkowska (Golem Foundation/Wildland), Sille Sepp (MyData), and Katarzyna Szymielewicz (Panoptykon Foundation). Their conversation was moderated by Alek Tarkowski (Open Future). Sille explained what the MyData Foundation does and what the problem we're facing is when it comes to data: "When we take a broader or bigger picture of how society is organized or economy is organized, people are often described as users or consumers. And this is a very organization-centric way to describe people."
Joanna brought in the perspective of someone building their own solution, explaining the need for looking for other ideas than the status quo: "Data itself is a buzzword these days. I don't really care much about data. What I really care about is information. (…) Consciousness is really a stream of information. We are moving increasingly towards a situation where information makes me spread myself among third parties."
Katarzyna added the perspective of a lawyer and underlined the importance of noticing that there's more than one sphere to data-connected empowerment: "I fully agree that a personal data port or another place where I control my data is a very good idea, but the interface level, where behavioral observation happens, also needs to be open for empowerment."
Calum Bowden & Maïmonatou Mar, photo by: Zbyszek Kaczmarek
Next, Calum Bowden (Black Swan DAO) and Maïmonatou Mar (Gribouilli/RxC Paris) took the stage for a conversation on Forking Capitalism for the Common Good. Calum introduced the work that Black Swan DAO does, explaining: We do blockchain thinking: it's taking lessons from technology without being beholden to it and about really emphasizing the social aspect in anything technological. The folks at Black Swan DAO think about ways of creating solidarity amongst artists who are increasingly atomized within the existing market and explore how decentralized autonomous organizations can be a catalyst for a modular way of building democratic organizations. Maïmonatou talked about her advocacy and how it relates to looking for a way for a cooperative having fair distribution of responsibilities as well as engagement of different stakeholders, underlining the importance of trust.
Sara Polak & Alec Empire, photo by: Zbyszek Kaczmarek
Alec Empire (Atari Teenage Riot) and Sara Polak (Paioneers Lab) brought some really fascinating insights to the table for their conversation titled Artists and Technology: Substitution or Co-Evolution. Alec, as an experimental electronic musician, best known as the driving force behind the hugely influential and internationally successful band Atari Teenage Riot, talked about how his musical ideas were embraced by the hacker culture: "We thought that if we simulate a riot digitally, a [real] riot will happen. So it's just based on this sort of principle, art often changes first, and then the culture. And then probably the society." Sara is an Oxford-educated archaeologist working in artificial intelligence. As she put it, "It's actually a very exciting time for an archaeologist to be alive as the democratization in the spreading of technology also has the bottom-up approach where the technology is starting to be used in reverse as a kind of pushback."
Victoria Ivanova, Anna Engelhardt (on screen) & Kateryna Rusetska, photo by: Zbyszek Kaczmarek
Art was very much a talking point in the next panel: Connecting Across Difference Through Art & Culture. Here, Anna Engelhardt (Digital Democracies Institute, Distributed Cognition Cooperative), Victoria Ivanova (Serpentine Galleries), and Kateryna Rusetska (Dnipro Center for Contemporary Culture) discussed the importance of art in explaining the devastating effects of events such as the war in Ukraine and how they are using technology in their projects. As Victoria explained, "Our argument is that you need spaces that nurture knowledge for the benefit of the public, with the artists as the kind of agents that will be able to deploy that knowledge in order to create technological development in a socially minded way." You can explore more of Anna's, Victoria's, and Kateryna's projects on their websites.
Julian Zawistowski, Puja Ohlhaver (on screen), Przemek Kowalczyk & Shrey Jain, photo by: Zbyszek Kaczmarek
Next, Shrey Jain (Microsoft), Przemek Kowalczyk (Ramp Network) and Puja Ohlhaver (FlashBots), moderated by Julian Zawistowski (Golem Foundation/Wildland) explored how blockchain technologies could be repurposed to support "plural publics" and cooperation across diversity. During the Web3 and the Dream of Radically Distributed Governance panel, Shrey explained what a big advantage of web3 is: "[It] has this community and ethos of taking new ideas and being okay with them completely failing. And I think that is a good place to experiment with motivated people to see how these ideas can translate to some of these more traditional institutions."
Przemek built on that idea, adding the importance of cryptocurrencies to the conversation: "The value [of web3] lies in having the immutable, easy to access, censorship-resistant money. It's just about having this parallel monetary system that can be used by people." Puja tied these two aspects together: "We have certain information asymmetries that propagate throughout the network, and the network will lead to concentration of power in the hands of one set of actors or another. So I think separating out the financial from nonfinancial is somewhat of a mistake, and it's really important to see the intersection of the two."
Joanna Erbel, Iryna Solovey & Paula Berman, photo by: Zbyszek Kaczmarek
To close the event, Joanna Erbel (CoopTech Hub, Blisko Foundation) and Iryna Solovey (Garage Gang) sat down with moderator Paula Berman (RadicalxChange Foundation) for a discussion around Strengthening Civic Hacktivism. Iryna, arriving straight from Kiyv, explained her work in Ukraine promoting the idea of creative cities: "We realized that people have a lot of ideas, they're open to new things (…) Before you start doing reforms, you actually have to give people a positive experience where they can implement their own ideas and where they emerge as leaders. Then, of course, you will get more and more support for other, more complicated forms. Take time and effort to successfully implement the model."
Joanna added a Polish perspective: "What I'm trying to show when I talk with the local governments, is that the digital space is part of the hybrid space we live in. A huge mistake we make that we are still making is that we divide the discussion about public spaces from the discussion about the digital space."
---
Sounds like something you wish you'd had a chance to listen to in full? No worries! You can watch the entire event on RadicalxChange's YouTube channel. Let us know what you found insightful and what you learned from this eclectic collection of themes and guests. Till next time!