Exploring Wildland and the UDO - RadicalxChange's Research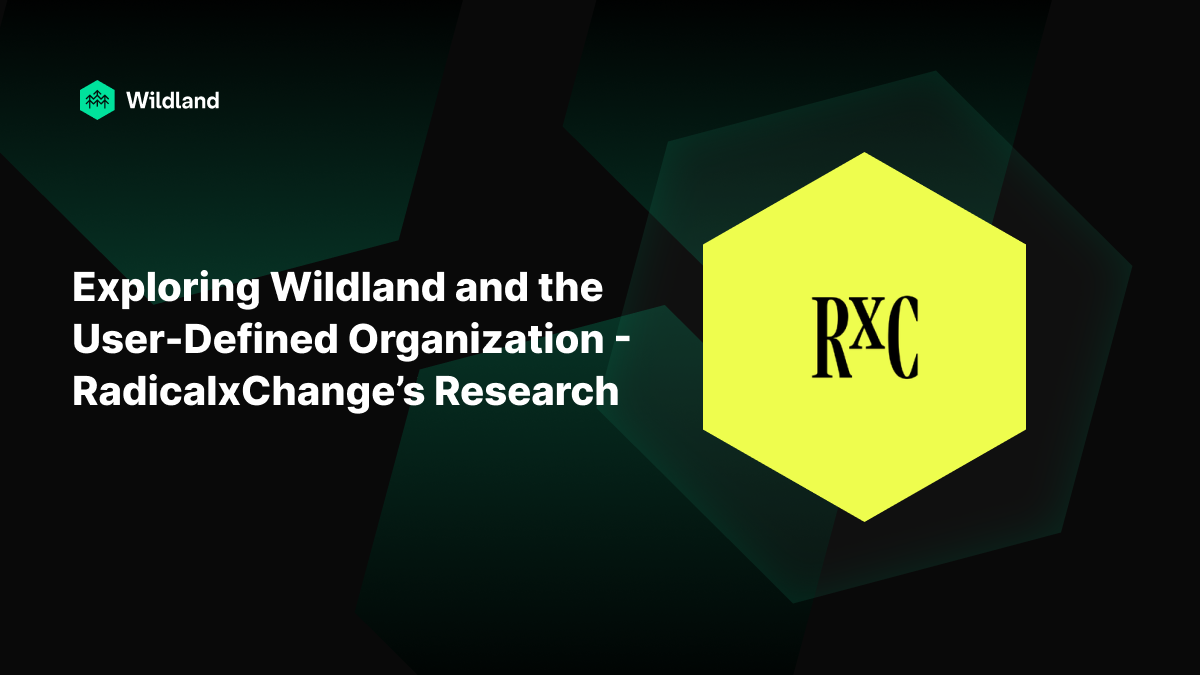 When creating, gaining other perspectives than your own can be extremely important. Especially if an idea is ambitious - everyone needs some grounding. That's why with working on Wildland and our novel decentralized governance framework - the User-Defined Organization - we've been reaching out to experts in the field of decentralized tech and governance.
A few weeks ago the team at RadicalxChange led by Matt Prewitt, Paula Berman, and Jack Henderson, published a report called Finding Wildland's Soul. This is a brief overview of the research - you can read the full report as well as an abridged version on RadicalxChange's blog.
---
RadicalXchange starts off their report where BlockScience's UDO report published in July ended. The latter pointed out several limitations of our initial design, mostly concerned with the properties and the distribution of the Proof of Usage (or PoU for short) tokens.
The RadicalXChange researchers agree with BlockScience team assessment, nevertheless, as they note, "PoUs are a substantial improvement on coin voting governance, and with a few key refinements embedding principles of Plurality, Wildland can make a compelling first case for UDOs and non-plutocratic web3 governance"
Glen E. Weyl, the founder of RxC, sees pluralism as a social philosophy that recognizes and fosters the flourishing of and cooperation between a diversity of sociocultural groups/systems.
In the web3 governance context, RadicalXChange researchers see soulbound tokens (SBT), as an especially useful tool for moving beyond financialized membership towards Plurality and decentralization.
The team argues that SBTs can complement PoUs by providing a more granular mapping of the participants in Wildland's marketplace, and bring various benefits, such as:
establishing the reliability of storage providers,
increasing protections against Sybil Attacks,
measuring and rewarding the diversity of support behind each proposal in the Build Fund.
The report then goes on to explore some examples of current implementations of SBT tokens in a variety of projects. Those include:
Finally, the report looks at the challenges around privacy and cheating the system. The team makes some recommendations with the underlying idea to remember that the balances of incentives and of privacy and publicity are a thing of delicacy.
---
RadicalxChanges's research was made possible thanks to our grant program at Golem Foundation. We are open to working with people in the space to further exciting ideas, especially those around the tokenomics of the UDO and the idea of decentralized governance. If you think you have any ideas around these subjects you'd like to explore with the help of our grant program, please drop us a line.
Fancy discussing in person?
If any of the concepts mentioned here have piqued your interest, come to RadicalxChange's event in Warsaw, Poland on the 18th of October! Our teams are collaborating on this exciting conference all about exploring European institutions through the frame of pluralistic governance. At RadicalxChange Warsaw: Europe and The Futures of Pluralism, we'll be talking about the following topics:
Examining European institutions through the frame of pluralistic, decentralized governance models
Considering European cases for community currencies, data coops, Decentralized Identity systems, SBTs, and other pro-social technologies
Paving the blockchain/web3 roads to increased user agency, interoperability, and funding the common good
Experiencing works of art as windows to connection and means of change.
Participation is free but you will need to register here.
You can follow us to hear first about the guests who will be joining us as well as more info on what you can expect at the event! You can share your thoughts and keep in touch on Twitter, our Discord and Reddit.