Researching the UDO with BlockScience and RadicalxChange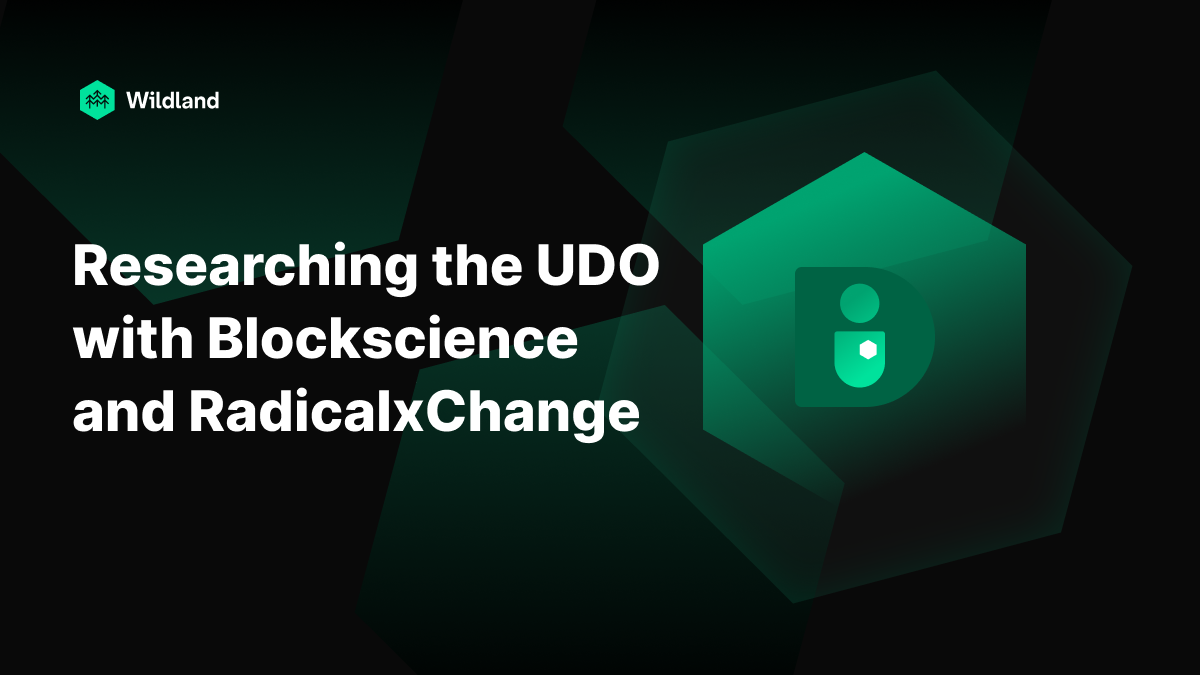 When introducing you to Wildland in the Why, What and How paper we also talked about our idea for tackling the problems of coin voting governance: a novel governance model called the User-Defined Organization (or UDO for short). We followed this paper with a two part blog post: one on the background of the idea and the other on the concept itself.
As we explain in our second blog post on the UDO, "The central assumption behind it is that there should be a strict tie between the platform's governance and its usage. Only those who actually use the platform should have decision-making authority over it, and their influence should reflect the level of their commitment to the project."
We're really excited to see the first implementation of the UDO come to life in Wildland, but before this can happen, we need to make sure to address any possible problems, challenges and test our approach.
We are happy to announce we are launching two very promising research projects exploring our concept of the User-Defined Organization. We will be working with BlockScience, an engineering, R&D, and analytics firm specializing in complex systems, as well as the RadicalxChange Foundation, a non-profit carrying research and development on governance, mechanism design and game theory.
BlockScience Research Plan
The BlockScience team, made up of Kelsie Nabben (Senior Researcher/Project Lead), Eric Alston (Senior Researcher), Burrata (Researcher) and Michael Zargham (Chief Engineer), will run a two-track research plan. It will look at the tokenomics of the Proof-of-Usage (PoU) token, as well as the UDO as a governance framework. The research will be published in the form of blog-length reports.
Research Track 1: Proof-of-Usage (PoU) Tokeneconomics: The goal of this track is to propose potential theoretical directions and/or limitations to the PoU incentive model, in order to answer questions such as how to optimally derive PoU from usage patterns. This track will consist of theoretical desktop research on literature and existing models, as well as practical insights in system design, institutional design, and token modeling to determine the most appropriate model to reward users, incentivize governance participation, and rebalance against the GLM token.

Research Track 2: User Defined Organizations (UDOs) as a Governance Framework: This track seeks to identify theoretical or practical opportunities and/or limitations in the proposed concept of the UDO, both in the Wildland implementation and beyond, and both in terms of social and technical dynamics. It will also try to pinpoint possible vulnerabilities in the concept, especially with regards to participation in decentralized governance systems and users as owners and participants in decentralized systems. The work will use theoretical desktop research and a literature review on the decentralized governance landscape of conceptual institutional models, tools, and applications. This will be combined with deep ethnographic insights on decentralized organizations in practice, based on fieldwork and published research on Decentralized Autonomous Organizations (DAOs).
The RadicalxChange Foundation Report
The RxC team, led by Matt Prewitt, Paula Berman, and Alex Randaccio, will produce a report canvassing design options, presenting novel ideas, and making recommendations for the governance and token economic features of the UDOs, also exploring how to mitigate possible risks and attacks. The project will be conducted over a 6-8 week period and will conclude in a whitepaper-style report, as well as an accessible blog post describing the work.
The report will be centered around the following topics:
Governance & Token Economics: The team aims to explore design alternatives for linking Proof-of-Usage tokens to quadratic voting mechanisms, in order to look at possible risks of off-chain vote buying, possible distortions, possible PoU inequalities and how that can influence participation levels, as well as ideas for adding incentives or novel veto / voting power redistribution structures.

SALSA: The team wants to look into the use of self-assessed licenses (SALSA or Harberger taxation) to allocate some or all forms of decisional power, and how it could enhance engagement / discourage passive wielding of governance power.

Quadratic Funding and the Build Fund: RadicalxChange's report will also look at the possible role of novel quadratic funding structures in the Wildland ecosystem. The team will explore how PoU tokens could be designed to track sub-structures of the Wildland community and use this data to understand the relationships between users to enhance the accuracy of the funding and/or voting system to align it with the goals of the UDO.

Identity: Last but not least, the team will consider possible failure modes related to sybil attacks, privacy, and other identity-related aspects of the UDO model, and recommend solutions.
Research Grants
Both of these projects are made possible thanks to our grant program at Golem Foundation. We are open to working with others in the space to further exciting ideas, especially those around the tokenomics of the UDO and the idea of decentralized governance.
We encourage you to reach out to us if you believe that what you do can help our efforts to create additional use cases and foster adoption of Golem and GLM or otherwise contribute to Golem Foundation's projects, including enriching and building on the concept of the User-Defined Organization.